CareerStep Offers Free IPad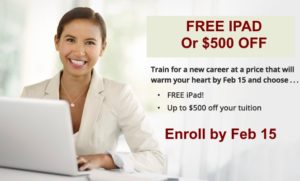 CareerStep Offers New Students
a Free iPad
or up to $500 Off Your Tuition
When Enrolling By February 

15!
February is all about feeling the love, and CareerStep is offering new students—who are looking for a career they can love—a little extra love with a free iPad OR up to $500 off their tuition when they enroll before February 15!
Qualifying Courses include:
Medical Transcription
Medical Transcription Editor
Medical Coding and Billing
Medical Assistant
And More (see below)
There has never been a better time to start working towards your new career.
Free iPad or up to $500 off your tuition when you enroll by Feb. 15
Free instructor support.
Free graduate support and job search advice.
Free certification exam voucher(s) (up to a $570 value!).
Do you qualify?
Qualifying programs: Only students enrolling in the Pharmacy Technician with Healthcare Administration and Billing, Pharmacy Technician with Healthcare Administration, Pharmacy Technician with Healthcare Billing, Healthcare IT, Medical Office Manager, Professional Medical Coding and Billing with Applied PCS, Professional Medical Coding and Billing, Medical Transcription Editor, Medical Transcription, Medical Administrative Assistant with EHR, Pharmacy Technician, Medical Assistant, Computer Technician, Medical Administrative Assistant, Veterinary Assistant, Veterinary Office Manager, Medical Billing, or Executive Assistant programs are eligible for the free iPad.
Select payment options: To be eligible the free iPad, new students enrolling in a qualifying program must pay their tuition in a single payment at the time of enrollment. If they wish to take advantage of a payment plan, the 3-month payment option offers a 5% tuition discount.
Cash discounts: Students who receive the iPad are not eligible for any additional discounts; however, if iPad eligible students would like a cash discount instead, that option is available (exact discount available varies by program).
Eligibility exceptions: Students who are enrolling through an academic partner may not qualify for these offers.
MyCAA enrolling students are eligible for a iPad only: Because of Department of Defense restrictions on the MyCAA program, additional tuition discounts are not available to students enrolling with MyCAA funding. However, with the move to ebooks, all new MyCAA students will receive an iPad with their course to ensure they can access their ebook resources.
Now is the time to take the plunge and take the online training for the career you want!
Find out how you can become a transcriptionist. Get Started Today.