What is General Transcription?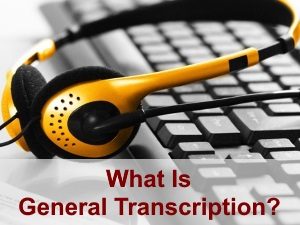 Transcription is typing what you hear on a recording.
General transcription is any transcription that is not medical or legal transcription. General transcriptionists (GTs) transcribe a large variety of non-medical and non-legal topics for businesses, individuals and organizations. They transcribe dictation, interviews, meetings and more.
General transcription covers a broad spectrum of industries and topics.
There is a huge demand for general transcription and the demand is growing. A wide range of businesses, organizations, professionals and individuals outsource transcription. Your clients may include universities, and financial institutions, authors, consultants, focus groups, public speakers and many others.
Examples of general transcription work include academic transcription, dictation transcription, interview transcription, telephone call transcription, voicemail transcription, meeting transcription, lectures, presentations, podcast transcription, focus group transcription, conference calls, seminars, radio shows, television shows, talk shows, conferences, events and transcription of a variety of other recordings.
General transcription is easier to get into than medical or legal transcription because no formal training is needed. You don't need to know medical or legal terminology.
Of course, a professional transcriptionist needs more than just typing skills. You also need to have excellent listening and grammar skills to build a successful transcription career.
The many benefits of general transcription work include:
1. You'll get all the usual benefits of working from home.
2. You don't need to learn medical terminology.
3. There is special training required. You do need good typing, grammar and listening skills.
4. It is easy and inexpensive to start.
5. Benefit from flexible hours.
6. The income potential is higher than most work at home opportunities.
7. There is plenty of available work.
Do you want to find out more about general transcription work
and how you can get started?
Explore a career in general transcription with my FREE general mini-course

Ready to get started in general transcription?

To get in-depth training,
I recommend Janet Shaughnessy's detailed, online, multi-media, online general transcription course
This course includes typing drills, transcription skills, transcription formats, grammar skills, lots of practice files and much more.
Disclaimer: I only recommend products I believe in. If you purchase a product through a referral link, I will get a commission. It won't cost you a dime extra, and it helps me to keep providing you with quality information.
Find out how you can become a transcriptionist. Get Started Today.