What Is Legal Transcription?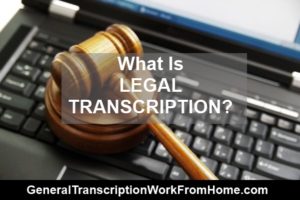 Legal transcription is transcription of legal content or other content needed for legal reasons. The finished transcript becomes part of the legal record.
Transcribing is listening to a recording and typing what is said on a recording. A transcript turns the spoken words from (audio or video) recordings into a typed document. The transcript is typically delivered in digital format and can be printed.
Unlike court reporters (who uses stenography equipment), legal transcriptionists use a regular computer and computer keyboard to transcribe recordings. They generally listen to recordings with a headset and use a foot pedal to pause and rewind the recording and type the text in a word processing program.
Types of legal transcription work
The wide variety of legal transcription work includes corporate law, family law, real estate law, collections and foreclosures, personal injury, insurance defense, workers' compensation claims and defense, medical malpractice and criminal law.
Legal transcriptionists transcribe legal documents such as court proceedings, court hearings, trial recordings, recorded depositions, testimonies, depositions, pleadings, briefs, interviews, interrogations, statements and confessions, phone calls, dictated notes, legal correspondence, police interviews and more.
Who needs legal transcription?
Legal transcription is used by a variety of legal professionals, law firms, private practice attorneys, court administrators, criminal justice agencies, and law enforcement.
In addition to legal industries, legal transcriptionists work with a variety of businesses and corporations, insurance companies, real estate, financial institutions, schools, universities, hospitals, pharmaceutical companies, government agencies, a variety of other sectors and private individuals.
Why legal transcription is needed:
Legal transcription in high demand. Here are just some of the reasons why legal transcription is needed:
Legal professionals need good record keeping.
Businesses, organizations, government agencies, and private and public sectors need to maintain legal documents.
Transcription is an effective way to generate legal records.
Transcripts provide a permanent written record of proceedings.
Legal professionals use a high volume of recordings. Audio and video help document cases and the transcribed text becomes part of the evidence.
Legal transcriptionists help legal professionals and the legal system to function more smoothly and efficiently.
Legal transcripts help document, organize and access legal information.
A transcript makes it easier and faster to search for information, key terms and names rather than playing back recordings.
Why the need for transcriptionists has increased and keeps growing:
Increasing lawsuits and caseloads has increased the need for transcription.
The need to maintain legal records has increased for businesses, organizations, government and private and public sectors.
Why legal transcription is outsourced
Outsourcing legal transcription has many benefits vs doing the work in-house:
Faster turnaround: Professional transcriptionists can transcribe faster than in-house employees who are not experienced in transcription. Also, work can be outsourced to several transcriptionists.
Outsourcing transcription saves legal professionals a lot of time that they can use to focus on more important tasks.
Experienced transcriptionists provide more accurate transcripts.
Reduced overhead: Outsourcing is less expensive than recruiting in-house staff.
Skills Needed to Become a Legal Transcriptionist
Although NO formal training is required to become a legal transcriptionist, specialized knowledge is needed. Legal transcriptionists need to understand legal terminology and be familiar with legal documentation.
As for any type of transcription work, clients expect accurate transcripts, a decent typing speed, and excellent grammar and punctuation skills. Accuracy is crucial when dealing with legal cases.
If you don't have a legal background or legal experience, you can take a specialized legal transcription course to become a legal transcriptionist.
Don't apply for legal transcription work
before you know what you're doing.
It could ruin your reputation and your chances
to build a succesful legal transcription career. 

Check out this detailed, multi-media legal transcription course I recommend.

Not sure if legal transcription is right for you?
Find out what's involved in becoming a legal transcriptionist, how you can learn legal transcription, how you can get started, what skills and equipment you need, and more.


Explore a career in legal transcription
Subscribe to my free legal transcription mini-course
to get answers to frequently asked questions about becoming a legal transcriptionist.
Disclaimer: I only recommend products I believe in. If you purchase a product through a referral link, I will get a commission. It won't cost you a dime extra, and it helps me to keep providing you with quality information.
Find out how you can become a transcriptionist. Get Started Today.