How to Start a Career in Legal Transcription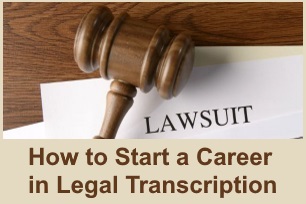 The wide variety of legal transcription work includes corporate law, family law, real estate law, workers' compensation claims and defense, collections and foreclosures, personal injury, insurance defense, medical malpractice and criminal law.
Legal transcriptionists transcribe legal documents such as court proceedings, court hearings, trial recordings, recorded depositions, testimonies, depositions, pleadings, briefs, interviews, interrogations, statements and confessions, meetings, phone calls, dictated notes, legal correspondence, police interviews and more.
Here are just some of the reasons why legal transcription is a great career option.
High demand.  Government, businesses, private and public sectors need to maintain legal records. Also, the large number of lawsuits and lawyers has increased the need for legal transcription.
Less competitive. Because legal transcription requires more skills and more training than general transcription, legal transcription is less competitive.
Additional work opportunities. Having legal training and knowing legal terminology and formats will help you get additional general and business transcription work. For example, insurance companies and law enforcement (e.g. police departments) prefer transcriptionists who are familiar with legal and/or medical terminology. You can also get academic transcription work that involves legal topics.
Better pay. Legal transcription pays better than medical and general transcription today.
Work from home. Many legal transcriptionists work from home.
Skills you'll need to become a legal transcriptionist
Although you don't need a certification or formal training to become a legal transcriptionist, you do need specialized knowledge and be able to transcribe legal documents accurately.
Legal transcriptionists need a solid understanding of legal terms and need to be familiar with legal procedures and documentation. They need to be able to prepare documents according to statutory requirements.
As for any type of transcription, a good command of the English language and excellent listening, grammar and punctuation skills are essential.
The speed requirements for legal transcription are typically higher than for general transcription so you need to have a decent typing speed. Accuracy is crucial when dealing with legal transcription and legal cases.
Legal transcriptionists must be able to comprehend the content of the dictated material they are transcribing.
Accurate transcription also involves editing and proofreading. Transcriptionists much check spelling, grammar, and punctuation.
Many transcription companies will have you take a transcription test to prove your skills.
How do you learn legal transcription?
You may not need to take a legal transcription course if you have some other legal training or background.
If you don't have a legal background or legal experience, taking a specialized legal transcription course is the best way to acquire the skills needed to become a legal transcriptionist. It will also expand your employment options.  Click here to get more information about the legal transcription course I recommend.
Not sure if legal transcription is right for you? 
Find out what's involved in getting started as a legal transcriptionist working from home and get answers to frequently asked questions.

Subscribe to this FREE legal transcription mini-course.
Disclaimer: I only recommend products I believe in. If you purchase a product through a referral link, I will get a commission. It won't cost you a dime extra, and it helps me to keep providing you with quality information.
LEGAL REFERENCE BOOKS & SITES
Search Legal Terms and Definitions – http://dictionary.law.com/
A Form and Style Manual for Paralegals
 is a classic reference book written by an experienced teacher and practitioner for paralegals at all levels of experience. It's a must for legal transcriptionists and a great resource for people wanting to become a legal transcriptionist.
Legal Terminology (6th Edition)
 by Gordon Brown is the most popular legal terminology book but I mentioning others as well to fit everyone's budget.
Disclaimer: I only recommend products I believe in. If you purchase a product through a referral link, I will get a commission. It won't cost you a dime extra, and it helps me to keep providing you with quality information.
Find out how you can become a transcriptionist. Get Started Today.